Shop by Brand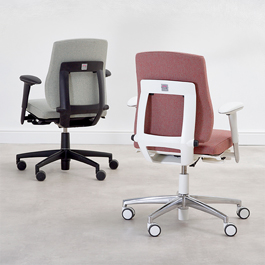 Our ergonomic seating range feature some of the best chairs from around the world, each with its own philosophy and individual features designed to meet the most demanding of environments - your office! Explore some of the ergonomic concepts behind each brand, but if it all seems a bit complicated don't worry. Simply call us on 01639 844500, and one of our friendly, trained Assessors can guide you to discover the right solution for your needs.
For more complex cases you may prefer to engage our Assessment Services.
Back to Top
DSE Needs Assessor
Thank you very much for providing the student with such a beneficial assessment and for sending over the report and quotations. Our client has also provided me with further feedback to say the assessment was a very positive experience for her which is lovely to hear. It is also clear that you have provided the most suitable equipment for her which is excellent as during my assessment she was unsure she would ever find a chair comfortable enough to sit in for any length of time. Thanks again and I look forward to working with you and Healthy Workstations in the future!