Ergochair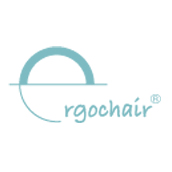 Over the years, a great deal has been written and even more spoken about "ergonomics" in the workplace. But just because a chair is labelled as "ergonomic" doesn't mean your chair will fit. Your office chair is the most vital piece of work place equipment you use. It bears your body weight for anything up to eight hours per day...& beyond! It's hugely important that it fits you and supports your body in all the right places.
Made to Measure
People are not made to standard specifications ...neither are Adapt ® chairs. The Adapt ® 500 and Adapt ® 600 ranges has one principle in mind: Adaptability. With a set of measurements, Ergochair cut the chair to fit the person - They are the only company in the UK to do this.
Whilst a correct posture can minimize instances of back and upper limb problems, personal comfort is crucial. The Adapt ® range of seating has, as standard, a memory foam seat which distributes weight more evenly across the legs and makes for an extremely comfortable sitting posture.
Back to Top
Leah, Health and Safety Assistant
Thank you for all your help this year, yourself and your team have been invaluable in office moves, assessments, training and giving us advice at the drop of a hat!