Electric Desks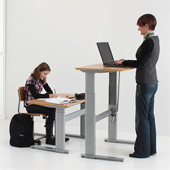 Electric height-adjustable (EHA) desks can be useful in a variety of situations...
- To ease existing back pain by alternating work postures. Sitting, perching or standing.

- For promotion of healthy working initiatives; to avoid musculoskeletal problems in the future

- Hot desking, call centres, desk sharing and shift working environments

- To set appropriate seated height for shorter, or taller, individuals to prevent stooping

- Wheelchair users

- Facilitate early return to work from sickness absence.
We have listed our more pouplar EHA desks but if you can't find something to suit your, then take a look at some of the different frames and shapes available upon request.
Back to Top
Julia, DSA Advisor
Thanks to you all at HWS for your reliability and consistently professional service throughout the year. The team is always so friendly and efficient and I know the students that I refer to HWS will be in safe hands. :)