Rectangular EHA Desks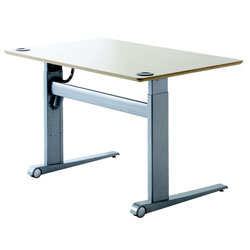 Rectangular desks are the most common shape because they fit such a wide variety of environments. You should consider whether your existing IT equipment e.g length of cables etc. is suitable but since of these desks are 800mm deep, it will easily accomodate your document holder and/or laptop stand fot the optimum 'inline workstation'. Now you just need to choose the length that best fits your office space and tasks.
Note: We can deliver and istall desks throughout South Wales. Please contact us for a competitive quotation and advice outside of this area.
Back to Top
Ceri, Research Assistant
The equipment was delivered and I was showed how to adjust and use the items appropriately. It has helped me so much already - I am so much more comfortable! Many thanks for your very through assessment and recommendations. I am so very pleased with the outcomes!