Office Chairs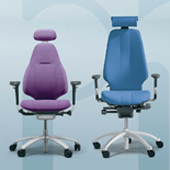 Ergonomic Seating for every office set up.
We offer a large selection of ergonomic seating. Whether you are looking for a budget solution or an ergonomic concept as a preventative measure or to support an existing problem such as back pain, our office chairs offer a range of adjustment features to suit users of all shapes and sizes, from the most petite to the tallest of individuals and everything inbetween.
Back to Top
End User
Both the lady who came to assess me and the gentleman who delivered the chair were really nice and professional and knew their stuff! Thank you all very much for your help and keep up the good work!