Office Chairs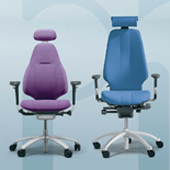 Ergonomic Seating for every office set up.
We offer a large selection of ergonomic seating. Whether you are looking for a budget solution or an ergonomic concept as a preventative measure or to support an existing problem such as back pain, our office chairs offer a range of adjustment features to suit users of all shapes and sizes, from the most petite to the tallest of individuals and everything inbetween.
Back to Top
Leah, Health and Safety Assistant
Thank you for all your help this year, yourself and your team have been invaluable in office moves, assessments, training and giving us advice at the drop of a hat!