Heavy Duty Chairs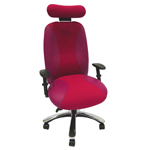 You wouldn't wear a pair of shoes that is too small for you so why should you have to sit for the majority of the day in a chair that is too small? Naturally a chair that fits is more comfortable for the user and helps them to be more productive. We strongly advise you to check that the chairs you are using are suitable for the individual user's weight - perhaps also allow for some fluctuation too? The chairs in this category are heavy duty so they have a higher weight capacity than any of those in our other collections.
Back to Top
Ceri, Research Assistant
The equipment was delivered and I was showed how to adjust and use the items appropriately. It has helped me so much already - I am so much more comfortable! Many thanks for your very through assessment and recommendations. I am so very pleased with the outcomes!