Heavy Duty Chairs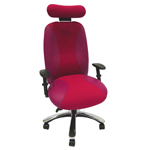 You wouldn't wear a pair of shoes that is too small for you so why should you have to sit for the majority of the day in a chair that is too small? Naturally a chair that fits is more comfortable for the user and helps them to be more productive. We strongly advise you to check that the chairs you are using are suitable for the individual user's weight - perhaps also allow for some fluctuation too? The chairs in this category are heavy duty so they have a higher weight capacity than any of those in our other collections.
Back to Top
Thomas, Nursing Student
I just wanted to send you a quick note to let you know how thrilled I am with my ergonomic equipment. Please pass on my thanks to Jeremy for his fantastic service and getting everything just right. I can successfully say, I have a wonderful environment to complete my nursing studies. It has made a huge difference. Thank you.