Ergonomic Mice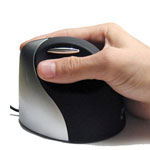 What mouse to choose?
Contoured Mice offer a more natural fit to the shapes of your hand relieving strain on the muscles in your hand.
Vertical Mice help to realign the natural angle of your wrist and forearm. Some use the power of stronger upper muscles while others use a finger pinch.
Trackball Mice prevent unnecessary wrist movement and allow you to isolate painful fingers by using different parts of the hand to navigate or customised buttons.
Central Devices allow you to create an inline workstation thus preventing unnecessary arm/shoulder movements i.e. overstretching for your mouse around your keyboard. They can be used with both hands.
Back to Top
Ceri, Research Assistant
The equipment was delivered and I was showed how to adjust and use the items appropriately. It has helped me so much already - I am so much more comfortable! Many thanks for your very through assessment and recommendations. I am so very pleased with the outcomes!