Sit-Stand platforms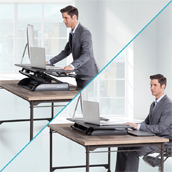 These easy-to-use revolutionary sit-stand platforms are affordable alternatives to electric desks. It's the perfect way to increase your energy, movement and health at work.
Back to Top
Leah, Health and Safety Assistant
Thank you for all your help this year, yourself and your team have been invaluable in office moves, assessments, training and giving us advice at the drop of a hat!