DSE Assessments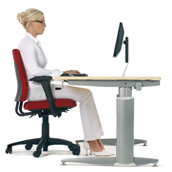 A proper DSE Assessment will help to both protect and get the best out of your biggest asset - your employees. Ensuring your team are happy, healthy and comfortable at work will help ensure your workforce remains present at work, saving your business money and maximise productivity. Our DSE Assessment Services help make that happen!
Back to Top
Leah, Health and Safety Assistant
Thank you for all your help this year, yourself and your team have been invaluable in office moves, assessments, training and giving us advice at the drop of a hat!