Opera Range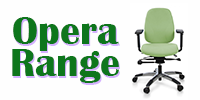 Opera Chairs….Because we're all different!

The Opera range of ergonomic seating goes beyond flexibility with an extensive selection of standard features, optional extras, weight ranges and the added benefit of our custom-fit service; Opera caters for everything from Contract seating to Executive as well as for those with individual needs.
With the ability to be tailored to each individual, Opera chairs ensure optimal comfort, support, and usability for every user, as well as for those with additional requirements. Select from a wide range different backrests and match with your desired seat size, before choosing additional comfort features from the extensive selection.
Back to Top
Julia, DSA Advisor
Thanks to you all at HWS for your reliability and consistently professional service throughout the year. The team is always so friendly and efficient and I know the students that I refer to HWS will be in safe hands. :)