Grahl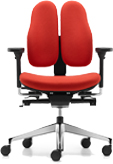 Working Well
Grahl are well known and respected for their patented Duo-BackŪ offering unparalled comfort and support to your back throughout your working day.The modern office swivel chair not only adapts to the back of the user but also supports it. So the user keeps moving permanently and does not tire quickly.
Back to Top
Ceri, Research Assistant
The equipment was delivered and I was showed how to adjust and use the items appropriately. It has helped me so much already - I am so much more comfortable! Many thanks for your very through assessment and recommendations. I am so very pleased with the outcomes!