Back Care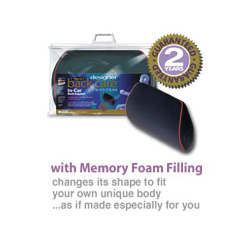 Harley Designer Back Support (Car)
Code: AZLR12D
The Harley Designer Back Support has a base of high polyurethane foam topped with Visco-Elastic Memory Foam; a material originally designed for NASA - giving gentle support that moulds as you move.
Key Features:
Adjustable fixing strap
Visco-elastic Memory Foam for maximum comfort
Adjust to the natural curve of the spine
Eases discomfort, back pain, back aches
Provides pressure relief for the back and spine
Measurements:
You may also be interested in
Designer Wedge

Neck Care Designer Pillow
Back to Top
Recently viewed items
Ceri, Research Assistant
The equipment was delivered and I was showed how to adjust and use the items appropriately. It has helped me so much already - I am so much more comfortable! Many thanks for your very through assessment and recommendations. I am so very pleased with the outcomes!