Seat Wedges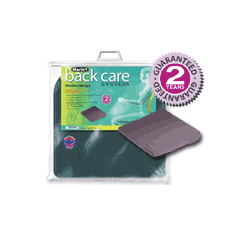 Harley Original Slimline Seat Wedge
Code: AZLR5
The Harley Original Slimline Seat Wedge relieves lower back strain which can often be caused by most car seats as they have a negative incline which rotates the pelvis causing lumbar pain. This slimline wedge cushion will level the seat allowing the spine to remain in it's natural position.
Key Features:
Ideal when headroom is restricted
Added tilt eases muscle tension in the legs
Use in any chair which slopes backwards
Measurements:
Width: 36 cm
Depth: 36 cm
Height: 5 cm
You may also be interested in
Back to Top
Recently viewed items
End User
Both the lady who came to assess me and the gentleman who delivered the chair were really nice and professional and knew their stuff! Thank you all very much for your help and keep up the good work!