Seat Wedges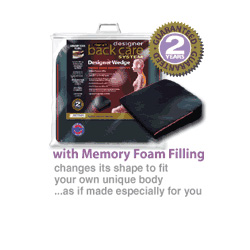 Designer Wedge
Code: AZLR8D
The Designer Wedge consists of a base of high resilience foam fused with 3cm of visco-elastic memory foam to provide maximum comfort and pressure relief. The 8 degree angle ensures the natural 'S' shape of the spine is maintained providing supreme comfort and even weight distribution. Ideal choice when sitting for long periods of time.
Measurements:
Width: 36 cm
Depth: 36 cm
Height: 7 cm
You may also be interested in
Back to Top
Recently viewed items
Designer Wedge
Verity, Administrator
Very helpful and exceptionally thorough in their assessment and professional approach.