Seat Wedges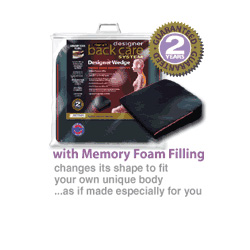 Designer Wedge
Code: AZLR8D
The Designer Wedge consists of a base of high resilience foam fused with 3cm of visco-elastic memory foam to provide maximum comfort and pressure relief. The 8 degree angle ensures the natural 'S' shape of the spine is maintained providing supreme comfort and even weight distribution. Ideal choice when sitting for long periods of time.
Measurements:
Width: 36 cm
Depth: 36 cm
Height: 7 cm
You may also be interested in
Back to Top
Recently viewed items
Designer Wedge
End User
Both the lady who came to assess me and the gentleman who delivered the chair were really nice and professional and knew their stuff! Thank you all very much for your help and keep up the good work!