Footrests
Dual Footform Footrest
Code: AZFR20
The Dual Footform is a sturdy, well constructed, foot-operated footrest which is well suited for work benches or where height is an important feature. It is an ideal solution for workstations with frequent personnel changes such as hot desking environments.

Large non-slip foot platform
Strong steel and aluminium frame

Foot-operated operation with dual height settings
You may also be interested in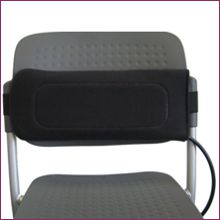 Air Care Lumbar Support

U Turn Document Holder
Back to Top
Recently viewed items

Dual Footform Footrest
Thomas, Nursing Student
I just wanted to send you a quick note to let you know how thrilled I am with my ergonomic equipment. Please pass on my thanks to Jeremy for his fantastic service and getting everything just right. I can successfully say, I have a wonderful environment to complete my nursing studies. It has made a huge difference. Thank you.