Arrow Tablet Solution
ARROW Tablet Solution
Code: AZTAB1
The award-winning Arrow offers an ergonomic tablet solution that is suitable for all iPad models, Galaxy, Kindle Fire, and any other tablet up to 12.5mm in thickness.
Did you know DSE Regulations also apply to tablets?
A number of companies think that because their employees are using personal tablets that the DSE Regulations do not apply - even though their employees are conducting work-related tasks on them!
Anyone using a tablet computer will be familiar with the uncomfortable feeling of not having any support for the hands or wrists whilst typing, or having the screen too low whilst viewing the screen. Whilst typing, position the Arrow and tablet at the front of the desk to allow for straight and natural wrist form. The Arrow offers the benefit of raising the screen height for use with an external keyboard, video conferencing or viewing videos or documents.
Features:
Folds flat for easy transportation with wallet
Palm support
2 Height settings
5 Angle settings
Compactly folds
Lightweight
Innovative design allows the tablet to be charged whilst supported at your chosen angle by the stand
Designed and ergonomically tested to be used at a desk, on a table, on your lap and even lying down
Resources:
Measurments:
Palm support angle: 22°
Angle Adjustability: 54° to 75°
Thickness (when folded): 7mm
Weight: 207 g
You may also be interested in
Back to Top
Recently viewed items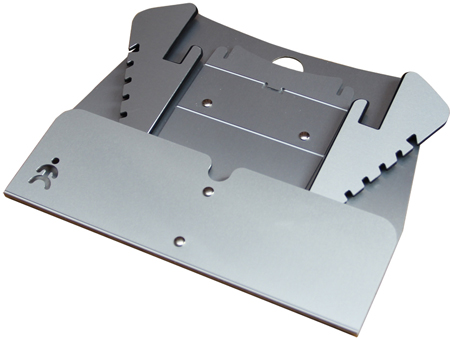 ARROW Tablet Solution
Tracey, Student
You would not believe the difference everything has made to me even in such a short amount of time... To study yesterday with no back pain and without my legs being numb was amazing!