Compact Keyboards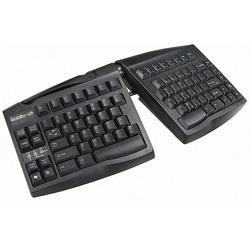 Black Goldtouch Keyboard
Code: AZK16/BLACK
The Black Goldtouch is a quick adjustable split mini keyboard which can be positioned both horizontally and vertically to achieve the most personally comfortable position possible.
The biggest problem with traditional keyboards is that the keys are laid out straight and flat, causing users to splay their hands in unnatural positions. This is a major contributing factor to the development of carpal tunnel syndrome. In contrast, Goldtouch makes ergonomic split keyboards that pull apart in the middle and are adjustable so that each individual can find the angle that works best for them. What's more, Goldtouch keyboards tent vertically, allowing typists to find a position that keeps their wrists angled at only the most comfortable angle.



Improved value!
Adjustable to suit individual requirements

Helps to align and straighten your wrists, arms and shoulders

Splits both horizontally and vertically

Split and angle can be secured with unique locking lever

Full-size tactile keys

Matching

numeric keypad

can be used on either side of the keyboard (purchased separately)
You may also be interested in
Back to Top
Recently viewed items

Black Goldtouch Keyboard
Catherine, In Work Support Advisor
You continue to bring the highest level of support and advice whilst still focusing on personal needs, upholding your commitment to be there for your customers when they need your for advice and supporting them as well as offering simply superb products and solutions. You really do take comfort seriously.