Back Care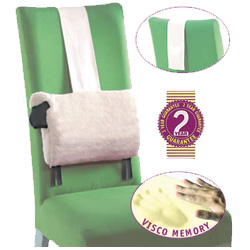 Rest-A-Back: Novelty Sheep Style
Code: AZLRP3
Baa Baa Back Sheep! The Novelty sheep Rest-A-Back povides gentle support and helps to improve your posture. It will look great on your favourite chair or as a thoughtful gift.
Materials:
Cover: Fluffy-wool like material with cotton backing.
Filling: Flame retardant, Top quality Visco Elastic
You may also be interested in
Back to Top
Recently viewed items
Ceri, Research Assistant
The equipment was delivered and I was showed how to adjust and use the items appropriately. It has helped me so much already - I am so much more comfortable! Many thanks for your very through assessment and recommendations. I am so very pleased with the outcomes!