Back Care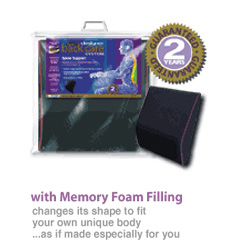 Harley Designer Spine Support
Code: AZLR10D
The Harley Designer Spine Support is a base of high polyurethane foam topped with visco-elastic memory foam provides maximum comfort and adjusts to the natural curve of the spine thanks to its pressure relieving properties. A perfect fit on almost any seat particuarly upright types.
Measurements:
You may also be interested in

Neck Care Designer Pillow
Back to Top
Recently viewed items
DSE Needs Assessor
Thank you very much for providing the student with such a beneficial assessment and for sending over the report and quotations. Our client has also provided me with further feedback to say the assessment was a very positive experience for her which is lovely to hear. It is also clear that you have provided the most suitable equipment for her which is excellent as during my assessment she was unsure she would ever find a chair comfortable enough to sit in for any length of time. Thanks again and I look forward to working with you and Healthy Workstations in the future!