Back Care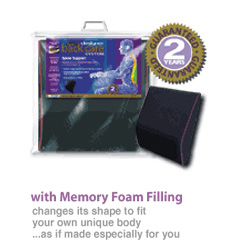 Harley Designer Spine Support
Code: AZLR10D
The Harley Designer Spine Support is a base of high polyurethane foam topped with visco-elastic memory foam provides maximum comfort and adjusts to the natural curve of the spine thanks to its pressure relieving properties. A perfect fit on almost any seat particuarly upright types.
Measurements:
You may also be interested in

Neck Care Designer Pillow
Back to Top
Recently viewed items
Tracey, Student
You would not believe the difference everything has made to me even in such a short amount of time... To study yesterday with no back pain and without my legs being numb was amazing!