ESD Chairs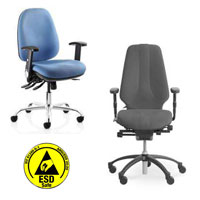 The ESD (electrostatic discharge) chairs are designed to effectively discharge static electricity for use in required areas e.g. the electronics industry. To work effectively the chair should be used in an ESD-adapted environment.
The electric discharge is delivered through the backrest, the seat, the gas stem and base down through the castors and to the floor in the ESD chairs (electrostatic discharge) RH collection . The chairs are approved in line with SP method 2472.
Back to Top
Catherine, In Work Support Advisor
You continue to bring the highest level of support and advice whilst still focusing on personal needs, upholding your commitment to be there for your customers when they need your for advice and supporting them as well as offering simply superb products and solutions. You really do take comfort seriously.