Showroom Sale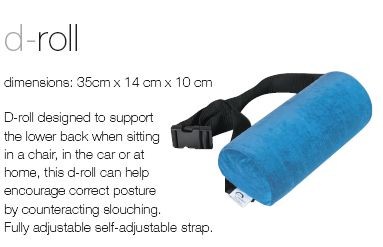 Actyv 4 INCH D ROLL 350mm x 140mm x 100mm
Code: EC-DROLL
WAS £30.00, THEN £19.75 - NOW ONLY £16.50!
D Rolls are designed to support the lower back when sitting in a chair, in the car and even at home. This simple yet effective cushion can help you correct your posture by counteracting slouching. Features a Fully self-adjustable strap.
Clearance - hurry, once they're gone they're gone!
Back to Top
Recently viewed items
Tracey, Student
You would not believe the difference everything has made to me even in such a short amount of time... To study yesterday with no back pain and without my legs being numb was amazing!