Showroom Sale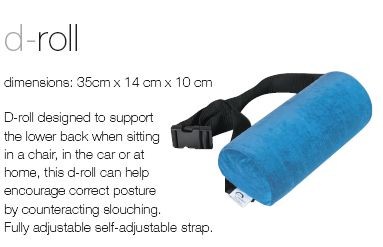 Actyv 4 INCH D ROLL 350mm x 140mm x 100mm
Code: EC-DROLL
WAS £30.00, THEN £19.75 - NOW ONLY £16.50!
D Rolls are designed to support the lower back when sitting in a chair, in the car and even at home. This simple yet effective cushion can help you correct your posture by counteracting slouching. Features a Fully self-adjustable strap.
Clearance - hurry, once they're gone they're gone!
Back to Top
Recently viewed items
End User
Both the lady who came to assess me and the gentleman who delivered the chair were really nice and professional and knew their stuff! Thank you all very much for your help and keep up the good work!