Full Size Keyboards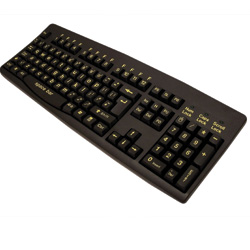 260 High Visibility Keyboard
Code: AZM56
The Accuratus 260 high visibility lower case keyboard opens up new opportunities for those with impaired eyesight. It has been widely recognised that people with impaired sight respond more positively to yellow fonts on a black background as opposed to white fonts on a black background.
Providing a high visibility keyboard to an individual with poor eyesight can reduce the likelyhood of hunching forward over the keyboard to distinguish keys. This in turn, can prevent back and neck strain.


Yellow print on black keys for maximum contrast
Extra large characters for easier recognition
Windows 98/2000/ME & XP compatible
USB only
Enhanced 105 Windows key layout
Highly reliable membrane contact technology
Responsive tactile feed-back keys
1 year manufacturer warranty
Back to Top
Recently viewed items

260 High Visibility Keyboard
Catherine, In Work Support Advisor
You continue to bring the highest level of support and advice whilst still focusing on personal needs, upholding your commitment to be there for your customers when they need your for advice and supporting them as well as offering simply superb products and solutions. You really do take comfort seriously.