Monitor Arms
ViewMaster M6 Monitor Arm 122
Code: AZMA-57122
The ViewMaster M6 Monitor Arm 122 offers a very effective compact solution allowing users to adjust their screen height with the greatest ease. It takes up very little space, which makes it ideal for workstations.

The monitor can tilt, swivel and rotate in any desired position

Built-in SUSPAŽ gas-springParallel mechanism

Step less height adjustability: 305mm

Integrated/concealed cable management

Die-cast aluminium

VESA: MIS-D 75 x 75/100 x 100mm compatible

Rotate 180°, tilt 180°, lateral 180°

Weight capacity: 4,5kg-10kg (up to 24"/24"W)

Desk clamp capacity 55mm

Bolt through desk min./max. Ř 10-70mm

Maximum reach: 380mm

Three-dimensional movement

Touch screen stable

Comes with both bolt through desk and desk clamp
You may also be interested in
Back to Top
Recently viewed items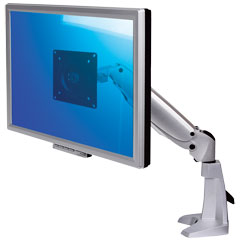 ViewMaster M6 Monitor Arm 122
End User
Both the lady who came to assess me and the gentleman who delivered the chair were really nice and professional and knew their stuff! Thank you all very much for your help and keep up the good work!