Nanoarmour-2 Optical Mouse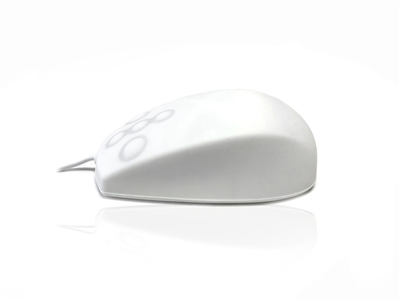 Nanoarmour-2 Optical Mouse White
Code: AZM1/WHITE
The AccuMed range offers dual layer Nanoarmour-2 antibacterial protection to aid in deactivating germs and the build up of bacteria & virus's. Nanoarmour contains silver nano particles which have an antibacterial activity and is widely used on a wide range of high-end medical products having been proven to help deactivate bacteria such as Escherichia coli, Staphyloccocus aurous etc. The range has been specifically designed for environments which have to meet very high hygienic requirements such as hospitals, dental practices, doctor surgeries, vets, laboratories and in food & pharmaceutical production areas.
Full size - suitable for left or right handed use
Combo (USB & PS/2) interface
5 button design, left, right, middle & up/down scroll click
Shaped to fit comfortably in your hand for ease of use
Buttons have a tactile feel to allow for comfortable use
Passes the JIS Z 2801:2001 antimicrobial test standards
Designed so that there is no areas that germs can collect
Easy to clean with a wet cloth or in water
Durable rigid silicone body with Nanoarmour-2 to aid with deactivating a widespread spectrum of bacteria, virus, fungi and algae.
Fully sealed silicone casing, dust, water and chemical resistant, IP67 rated
1 Year Warranty
You may also be interested in
Back to Top
Recently viewed items
Helen, Student
Hi Anne, Thank you for today, your approach was brilliant. I was really pleased with the whole experience. Many thanks again!