Aeris Stools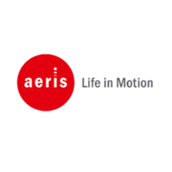 It began in 1997 when they presented the innovative three-dimensional seat - the "swopper".
Life in Motion. That is the aeris philosophy.
Genetically speaking the human being is at the same stage as about 150,000 years ago. Our bodies are made for running, climbing, bending, stretching and jumping - not for hours of rigid sitting. However, 85% of the total waking time of our everyday life is dominated by sitting. At breakfast, in the car, at the desk, at the workplace and even at home during our spare time. This lack of movement is detrimental to the health and often cannot be compensated by leisure sport - the modern human being suffers from backache, overweight and cardiovascular diseases. Aeris have set themselves the goal of bringing more fitness, health and well-being in everyday situations.
Back to Top
Ceri, Research Assistant
The equipment was delivered and I was showed how to adjust and use the items appropriately. It has helped me so much already - I am so much more comfortable! Many thanks for your very through assessment and recommendations. I am so very pleased with the outcomes!