Back Care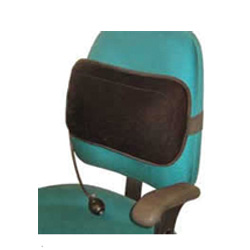 The TruBack is an easily portable inflatable lumbar support which is ideal for situations where a good chair is not always available for example: in meetings, in the car, at home.
Extremely robust rubber pump-up insert.
Easy-stretch strap with VelcroŽ fixing.
The pump can be tucked into the strap behind the chair back.
Easily portable.
Cover can be removed for washing.
Strap extension available at extra cost
Back to Top
Recently viewed items

TruBack
Helen, Student
Hi Anne, Thank you for today, your approach was brilliant. I was really pleased with the whole experience. Many thanks again!