Swansea University project
The client
Swansea University is the third largest university in Wales and one of the largest organisations in the local area, employing some 2,500 staff with more than 15,000 enrolled students. Over the years, we have built strong relationships as trusted providers both to their campus staff and also to students applying for the Disabled Student Allowance (DSA).
So when The Annex building was soon to be home to an enlarged team, bringing Student Services to work alongside the Disability Team, they needed to redesign their campus office. A supplier that could demonstrate attention to detail and sound knowledge of ergonomic solutions to create a user friendly environment was needed, so naturally their first choice was a trusted source of advice: Healthy Workstations!
Scope of the project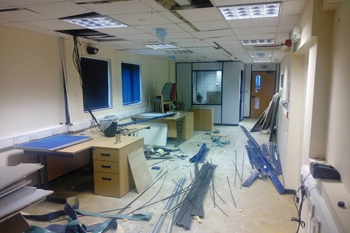 There were of course several parameters that needed to remain unhindered, such as the fire exit, walkway and private consultation area. But the existing sectioned offices were set on a corridor which needed to be transformed into an open plan environment, not only to accommodate more people but, due to the complexity of their work, minimise noise pollution and balance personal space. Our main challenge was to ensure the room wouldn't remain dark and uninspiring – even when the partitions were removed. Needless to say the whole area had to be disability-friendly too. The mix of rectangle and large corner desks that had previously been in use would no longer fit the allocated space and any new workstations would need to be equipped with dual monitors along with a Surface tablet. They also required adequate file storage.
Planning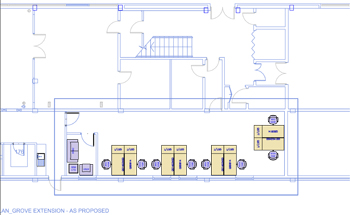 Initial discussions brought forth a wealth of colour suggestions, fabric types and textures – too many to be coordinated in such a limited space – so we began by factoring in the fixed elements of the property as these should form the baseline of any decisions. The dark blue window frames and the sensible floor tone covering provided a deeper but colder palette so the other furniture needed to lighten the overall perception. Although white worktops have become fashionable, we suggested warmer melamine tones such as Golden Maple (which also reduced potential for glare) complimented by a white metal bench frame.
How we delivered
We began with designing the new floor plan to accommodate the key features in compliance with the health, safety and comfort of the team. As a result, this small department was completely revived with a makeover of modern form and functional designs.
Desks
The team were each supplied with their own desk; the warm wood tone helped lighten up the sun-deprived department and reduced the effects of glare from the artificial overhead lighting. Although 600mm deep desks would potentially allow more workstations to be fitted into the space, we advised that 800mm deep desks would more ably comply with DSE requirements; accommodating the dual monitors with varying depth adjustment whilst also allowing taller individuals to stretch their legs in comfort.
"The higher cupboards at the end of the desks makes the space feel a lot less open-plan" – Student Services
The low screens separating each pair of desks provided some privacy while still allowing interaction with colleagues thus preventing the feeling of being confined to a corner. Accented colour was brought in through the desk top screens, in subtle contrast to the seating upholstery.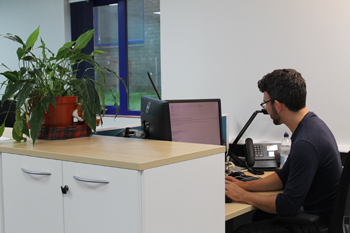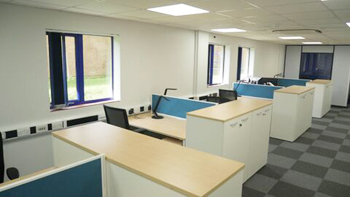 Storage
Storage can be the defining feature of a workplace and can be utilised in many subtle ways. In this case, one of the solution's we provided was sleek, lockable cupboards at the ends of the desks so that the team had plenty of storage for securing confidential information while also splitting up the desks so that the workstations felt more personal. The colours for the carcass, shelves and top can be different to introduce shade and enhance features. These mid-height cupboards also provide a worktop at standing height to offer an alternative position for filing tasks, ad-hoc meetings or brief use of tablets and encourage postural change through task variety.
Lockable under-desk mobile pedestals not only allow for personal belongings but also secure storage for sensitive data and case files. We recommended these slimline models – which could be positioned to the left or right of the user - as they improve leg space that can otherwise confine computer users. As a result, the employees were able to move freely and safely into, and away from, their workstation. We mixed and matched them in golden maple and white to complement the desktops and cupboards, providing a light contemporary feel.
Monitor arms
These sturdy Ergotron LX monitor arms are a durable steel and polished aluminium construction which we recommended because of their impressive 10 year warranty and ability to hold older, heavier monitors, or the more lightweight designs, with equal ease. Implementing desk mounted monitor arms frees up valuable desk space and allows for personalised setting to help reduce eye, back and neck strain.
Lighting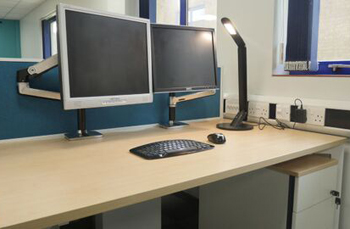 Lighting can be a contentious issue in most office environments with individuals having varying preferences for bright or subtle shades. As this team is very aware of personal requirements and varying needs it was an ideal opportunity to provide task lighting to meet personal preferences. The LED multi-adjustable lamp brightens darker work areas with warm light options for reading off screen, and cool light options for computer-based work.
Office chairs
We employed these stylish posture-enhancing office chairs which offer significant and effortless movement, and are fully adjustable for optimum comfort to reduce some of the effect of sedentary working. The breathable mesh backrest prevents unnecessary perspiration often acquired in stuffy offices. Upholstered in Camira's Synergy fabric; a soft handle wool blend which support 'Just a Drop', the international water aid charity. Coupled with the polished aluminium base, the Genesis G20 task chairs completed the transformation of the new office; which is now an inspirational place to work.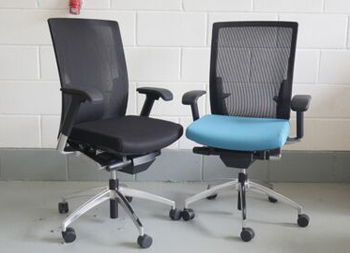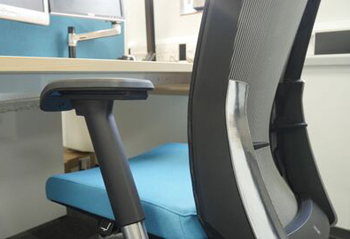 Back to Top
DSE Needs Assessor
Thank you very much for providing the student with such a beneficial assessment and for sending over the report and quotations. Our client has also provided me with further feedback to say the assessment was a very positive experience for her which is lovely to hear. It is also clear that you have provided the most suitable equipment for her which is excellent as during my assessment she was unsure she would ever find a chair comfortable enough to sit in for any length of time. Thanks again and I look forward to working with you and Healthy Workstations in the future!