Sit-Stand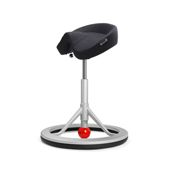 Standing desks are not a new concept but recent media alerts about sitting and inactivity have brought about a trend of electric desks and adjustable platforms to the worksplace in recent years. As our blog: what you need to know about standing explains, excess standing could be as detrimental to our health as prolonged sitting. A sit-stand stool could be your very solution to alternating your posture regularly and even encourage more movement throughout your day.
Back to Top
Thomas, Nursing Student
I just wanted to send you a quick note to let you know how thrilled I am with my ergonomic equipment. Please pass on my thanks to Jeremy for his fantastic service and getting everything just right. I can successfully say, I have a wonderful environment to complete my nursing studies. It has made a huge difference. Thank you.