Sit-Stand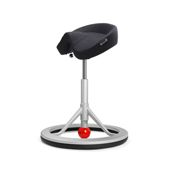 Standing desks are not a new concept but recent media alerts about sitting and inactivity have brought about a trend of electric desks and adjustable platforms to the worksplace in recent years. As our blog: what you need to know about standing explains, excess standing could be as detrimental to our health as prolonged sitting. A sit-stand stool could be your very solution to alternating your posture regularly and even encourage more movement throughout your day.
Back to Top
Leah, Health and Safety Assistant
Thank you for all your help this year, yourself and your team have been invaluable in office moves, assessments, training and giving us advice at the drop of a hat!