Sit-Stand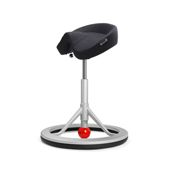 Standing desks are not a new concept but recent media alerts about sitting and inactivity have brought about a trend of electric desks and adjustable platforms to the worksplace in recent years. As our blog: what you need to know about standing explains, excess standing could be as detrimental to our health as prolonged sitting. A sit-stand stool could be your very solution to alternating your posture regularly and even encourage more movement throughout your day.
Back to Top
Ceri, Research Assistant
The equipment was delivered and I was showed how to adjust and use the items appropriately. It has helped me so much already - I am so much more comfortable! Many thanks for your very through assessment and recommendations. I am so very pleased with the outcomes!