Home Working Chairs
RH Logic 200 - Medium Back - Quick Ship
Code: RH-LOGIC-200-QS
From:
£1,140.00
(exc. vat)
The new and improved RH Logic 200 is an excellent 'medium back' choice for lasting individual comfort. By adjusting smoothly to your body and providing crucial support and relief, it helps you stay focused on getting things done – no matter who you are, what you do or when you do it.
This is the Quick Ship version (ideal if you need fast delivery), and looks exactly as per the product image. See below for information on its specific features.
CMHR fire retardant foam included in the price for home environment compliance. Please refer to images for fabric colour option guides.
Note: There is also a wider range of fabric and component options available on the non-Quick Ship RH Logic 200 page, but the delivery time is slightly longer.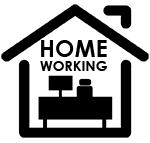 Fabric: Black Select
Arms: 8L - Adjustable in height, depth and width and turnable.
Base: 5T base - aluminium lacquered black
Castors: Soft floor - for carpet or other soft flooring
Other information
Seat height: 388-520 mm 4TNPR
Lumbar pump fitted as standard - for extra support
Easy backrest tilt and height adjustment
Easy seat slide for better ergonomic adjstment
Full chair tilt control
Seat width 470mm, depth 475mm (seatslide 100mm incl. 20mm in the back)
Backrest medium: width 430mm, height 540mm
Back to Top
Recently viewed items
Verity, Administrator
Very helpful and exceptionally thorough in their assessment and professional approach.