Document Holders
Paperless Copywriter
Code: AZDH8/P
No Paper, No Shredding, No Problem! Write sensitive information and wipe it off instantly. No Paper to shred!
Never again lean forward to write, and always write at the correct angle. The Copywriter series allows you to correctly bring the document to you, rather than being forced to lean forward to reach which could place extra strain on your upper limbs.
This is a new and innovative product designed and manufactured by the Welsh company: Ergonomic Cafe, for people who take notes or write at their workstation. It sits between the keyboard and the monitor to aid the user with an in-line ergonomic set up. When you want to write or take notes, the unit can be easily and quickly pulled over the keyboard (no need to move the keyboard) to the front of the desk and positioned to overhang the front edge of the desk, which resists from moving whilst writing. Then simply lift and push back to a copy holder position in seconds to continue typing.
Combined writing slope and document holder

Whiteboard Feature

2 E rgonomic a ngle settings

Slides over keyboard

The way the unit sets resists the unit from moving whilst writing
Back to Top
Recently viewed items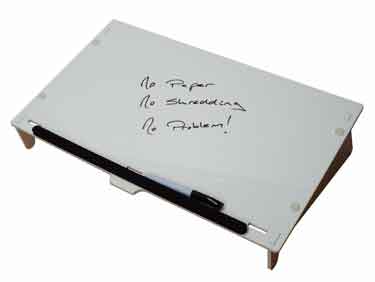 Paperless Copywriter
End User
Both the lady who came to assess me and the gentleman who delivered the chair were really nice and professional and knew their stuff! Thank you all very much for your help and keep up the good work!