Number Pads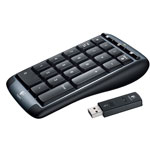 While our Easy Reach Zone illustrates how full-size keyboards can cause overstretching of the mousing arm, some individuals still need a numerical pad. By introducing a compact keyboard with a separate number pad, users can place it on either side of the compact keyboard, helping to keep your mouse arm more inline with your body. Separate number pads offer the flexibility of bringing it closer to you when you need to make calculations and then putting it away when not in use to clear desk space.

Ergostars Saturnus Number Pad
Design fits with "Ergostars Saturnus" Keyboard - AZM37 Ideal for users that have to handle extensive data entries. An external number pad allows alternating left and right hand use. Tweet Extendable USB cable Built...
More

Goldtouch Number Pad
The Goldtouch number pad is deal for users who work frequently with numbers, provides flexibility in periodically changing operating position. Tweet Width: 130mm Depth: 95mm Height: 30mm

Kinesis Low-Force Keypad Number Pad
The Kinesis low-force keypad allows users flexibility in positioning the number pad to the right or left of the keyboard. It's perfect for narrow keyboards like the Kinesis Freestyle, or in conjunction with your laptop. Use it in any situaton where a...
More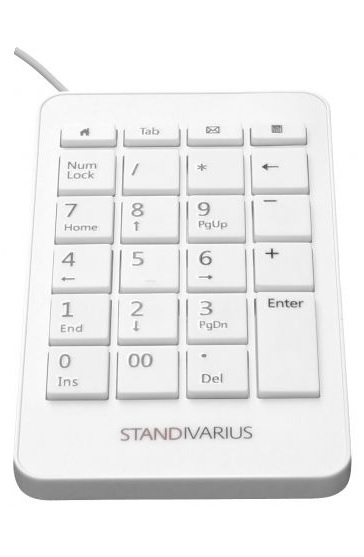 Standivarius Numeric Keypad - White
The USB 'plug and play' SI Numeric Keypad featuring special hot keys to open regular applications is designed for high-speed typing. Key Features: Additional shortcut keys (Home, Email & Calculator) Modern design with bla...
More
Targus Number Keypad
The Targus Number Keypad allows users to type numbers into spreadsheets and other applications quickly and easily. The full-size 19mm concave keys improve speed and accuracy by making it easier to locate and press the numbers you are looking for. The...
More
Back to Top
Maxine, Student
I just want to say a massive thank you to you all, for the excellent customer service I have received from yourself, and your colleagues who came to my home. Both gentlemen, were very helpful, and made sure that I was happy with everything before leaving. You all do an excellent job! Many thanks