Full Size Keyboards
Monster Black on White V2.0
Code: AZK-MON2BLK
Meet the Monster2 range of oversized keyboards from Accuratus. For young children the Monster 2 Mix is the perfect entry into computing, with large oversized keys grouped in different colours making learning easy and fun. Then there's the High Visibility & High Contrast models, with high visibility large black legends against a bright yellow background, or large black legends on a high contrast white background. The perfect combinations for those with certain sight deficiencies. Maybe you just want a keyboard With big keys because they look cool, whatever the reason, these tough keyboards are precise and a joy to use.


USB interface
Black case with modern gloss piano black beveled edge ·
Large 1 inch square keys (24mm)
Two port USB 2.0 Hub in the rear
Same outer size as a conventional keyboard
Detachable wrist pad for comfortable typing
Mixed, High Visibility or High Contrast keys (only 1 style per carton)
Easy to learn text written on the keys (tab, capitals, shift, spacebar, enter and backspace), so that you can easily find these keys if you are unfamiliar with a keyboard
Large F1 to F12 function keys, including separate Escape key
Designed with spill holes in the base of the keyboard so that any minor spillages can escape without damaging the keyboard membrane
Lowercase legends or large bold legends on high vis/contrast models · Durable fold down feet providing keyboard tilt
Tactile feedback responsive keys
Correct UK key layout based on a conventional keyboard for easy transition
Capitals (Caps lock) green status LED
Full retail packaging
Back to Top
Recently viewed items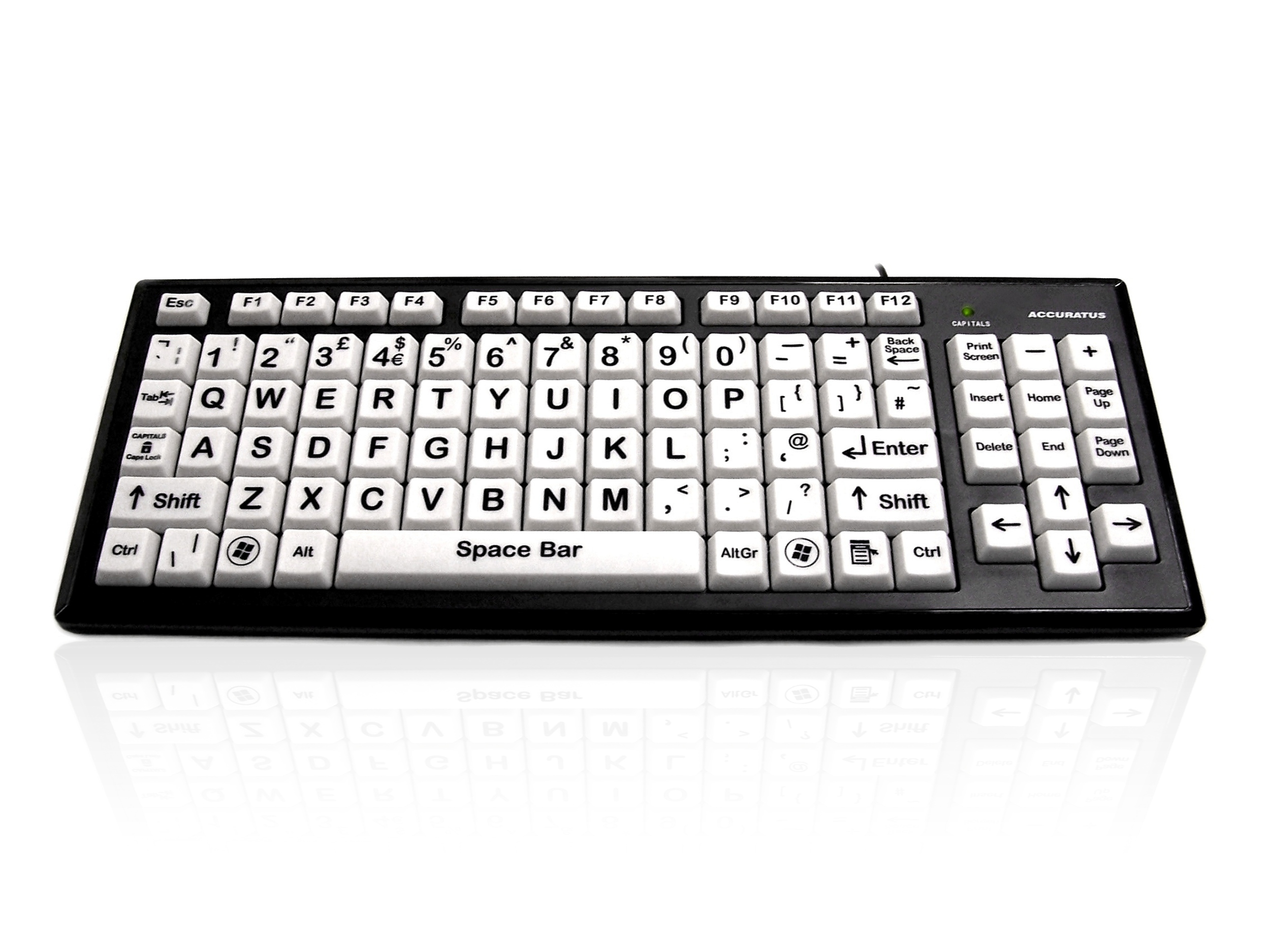 Monster Black on White V2.0
Tracey, Student
You would not believe the difference everything has made to me even in such a short amount of time... To study yesterday with no back pain and without my legs being numb was amazing!