DSE Courses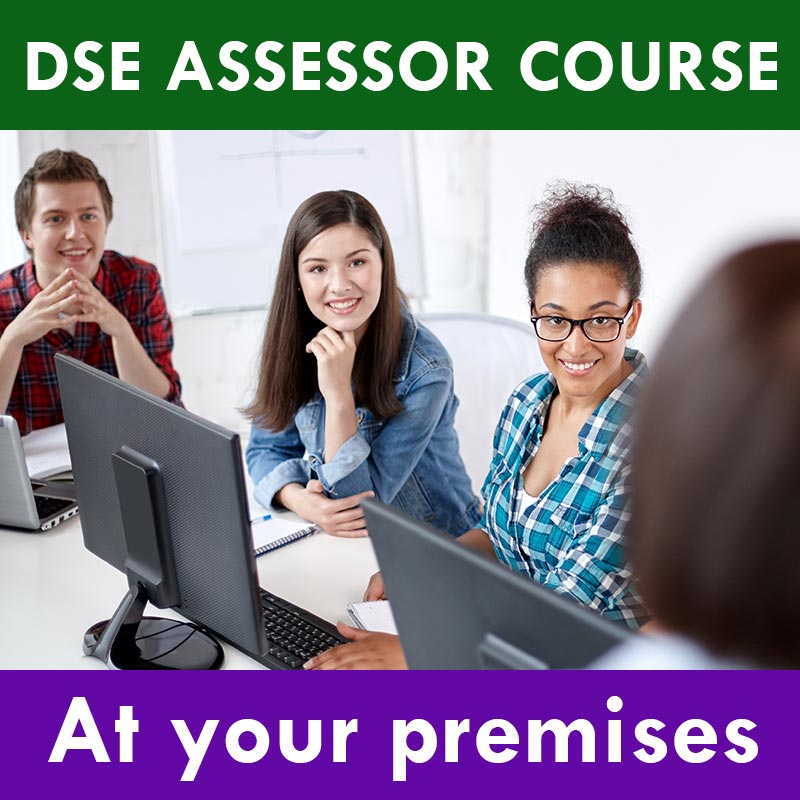 DSE Assessor Training - On Premise [Up to 8 Delegates]
Code: DSE-DAY
Course date: To suit Client
Our one-day, on premise, DSE 'Essential' Assessor Training Course provides delegates with all the skills needed to assess for DSE compliance and to suggest improvements.
The Display Screen Equipment (DSE) Regulations require all computer work station users to be assessed to ensure Health and Safety compliance. Not only is this a legal requirement; but doing so can also help you reduce absence, improve morale and increase productivity.
Venue Details
This one day course (6 hours) is conducted at your premises for best practice, allowing the content to be further styled to complement your organisational need.
To allow each attendee to obtain maximum benefit from the day, we normally recommend an upper limit of around 8 delegates, although we are happy to discuss this with you.
(Consider enrolling staff members whose role is allied to DSE. For example, those buying DSE-related equipment may also find this entry-level course helpful.)
Date & Time
To suit the client company/group.
Course costs:
£895 (Ex. VAT) (plus travel expenses, if outside South Wales).
Ideal for larger organisations, and offers significant savings compared to our standard delegate course.
Once you complete the order, we will be in touch to discuss a suitable course date and any other requirements. You are welcome to contact us prior to placing the order, should you wish to provisionally confirm any details in advance.
Understand the requirements of the regulations

Identify the main health/postural issues related to DSE use

Observe practical demonstrations on optimum use of equipment

Learn how to carry out/record an appropriate workstation analysis

Make suitable recommendations for improvements

In summary - practical training with confidence!

This is followed by the issue of Competence Certificates and a question and answer session which allows you to discuss any topical concerns of the day
What makes our course different?
Our aim is to equip you with the knowledge you require to not only complete DSE assessments, but to do so within any system that you may already have in place and by utilising, wherever possible, the equipment that you already have in situ. This approach can produce immediate results.
Does it cover practical situations?
Yes - during the day, we will observe some real, live situations enabling newly trained Assessors to put their classroom skills to the test engendering confidence and commitment.
Who is the couse suitable for?
This course is designed for potential assessors, line managers, HR Personnel, IT Technicians and those with responsibility for managing the risks of computer users.
Once trained, we would like to invite you to expand your knowledge as a DSE Assessor with our complimentary Ergonomic Product Workshop which will provide you with a deeper understanding of ergonomic products, and how to select appropriate solutions for your organisational needs.
Venue: HWS Training Suite, Swansea Valley.
Dates: by arrangement.
Back to Top
Recently viewed items
Maxine, Student
I just want to say a massive thank you to you all, for the excellent customer service I have received from yourself, and your colleagues who came to my home. Both gentlemen, were very helpful, and made sure that I was happy with everything before leaving. You all do an excellent job! Many thanks