DSE Courses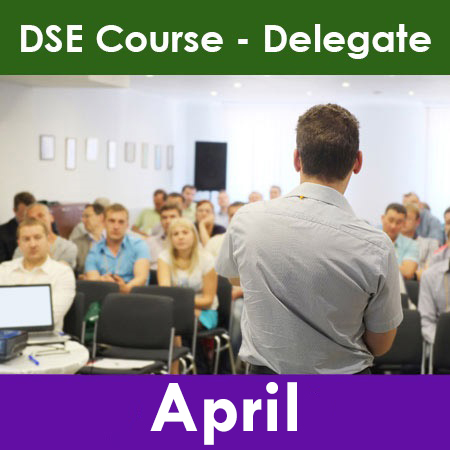 [002] DSE Assessor Training - March - Cardiff / Swansea
Code: DSE-DELEGATE_1122
Course date: 14th March 2023
Our one-day DSE Courses provides delegates with all the skills needed to assess for DSE compliance and to suggest improvements.
The Display Screen Equipment (DSE) Regulations require all computer workstation users to be assessed to ensure Health and Safety compliance. Not only is this a legal requirement; but doing so can also help you reduce absence, improve morale and increase productivity.
Courses for delegate bookings:
1. 'Essential' Assessor Training Course
2. 'Advanced' Assessor Taining Plus+ Course
Understand the requirements of the regulations - including hybrid working

Identify the main health/postural issues related to DSE use

Workstation risk factors & solutions - Learn practical techniques to improve the immediate, medium and longterm working environment for individuals

Observe practical demonstrations on optimum use of equipment

Learn how to carry out/record an appropriate workstation analysis

Make suitable recommendations for improvements - consider future needs

In summary - practical training with confidence!

This is followed by the issue of Competence Certificates and a question and answer session which allows you to discuss any topical concerns of the day
What makes our course different?
Our aim is to equip you with the knowledge you require to not only complete DSE assessments, but to do so within any system that you may already have in place and by utilising, wherever possible, the equipment that you already have in situ. This approach can produce immediate results.
Does it cover practical situations?
Yes - during the day, we will observe some real, live situations enabling newly trained Assessors to put their classroom skills to the test engendering confidence and commitment.
Who is the couse suitable for?
This course is designed for potential assessors, competent Assessors, line managers, HR Personnel, IT Technicians and those with responsibility for managing the risks of computer users.
Once trained, we would like to invite you to expand your knowledge as a DSE Assessor with our complimentary Ergonomic Product Workshop which will provide you with a deeper understanding of ergonomic products, and how to select appropriate solutions for your organisational needs.
Venue: HWS Training Suite, Swansea Valley.
Dates: by arrangement.
Back to Top
Recently viewed items
Tracey, Student
You would not believe the difference everything has made to me even in such a short amount of time... To study yesterday with no back pain and without my legs being numb was amazing!