Showroom Sale
Your budget could go a little further with these ex-demonstration products. Discover some excellent savings here. ...But hurry, once they're gone, they're gone!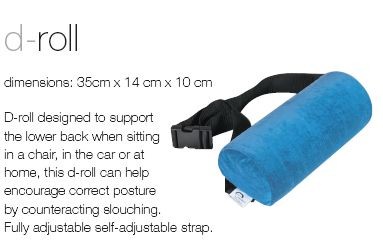 Actyv 4 INCH D ROLL 350mm x 140mm x 100mm
WAS £30.00, THEN £19.75 - NOW ONLY £16.50! D Rolls are designed to support the lower back when sitting in a chair, in the car and even at home. This simple yet effective cushion can help you correct your posture by counte...
More
Aero Laptop Riser
NOW ONLY £24.99! Weighing a mere 135gr and measuring 2.5mm in thickness, Aero redefines the limits of ultra-thin and ultra-portable. It takes only seconds to set it up, so you have total freedom of movement without compromising in any way on t...
More

Gel Wrist Support
This Second generation "Super-Gel" wrist support is soft and cushioned to provide ergonomic support with raised keyboards. Covered with non-abrasive Lycra Provides full ergonomic wrist support Width: 457mm Depth: 64mm ...
More
Multirite Large
The Multiwrite Large is suitable as both a document holder and writing board and been designed to accommodate the extra large Bloomberg keyboards and peripherals such as the RollerMouse including the Pro. Tweet Sliding top ...
More
Penclic R2 Wireless Mouse
The Penclic Mouse offers a stylish, ergonomic and highly practical mouse in the shape of a pen. Penclic's innovative pen grip counteracts health problems like Repetitive Strain Injury (RSI), obtained from using a traditional computer mice.&...
More
Posture Pouch
Now Only £38.99 (Large) £35.99 (Small) The Award-Winning Posture Pouch offers so much more than a case! The dual-purpose Posture Pouch is designed to protect you and your portable computer as an ergonomic laptop stand and ...
More

Super Gel Mouse Pad - Blue
This mini round mouse mat offers a cushioned pad to provide full ergonomic wrist support when using traditional mice. Pinpoints a mousing surface Soft non-abrasive Lycra covering Colour: Blue Width: 20 cm Depth: 24 cm Height...
More
Back to Top
Tracey, Student
You would not believe the difference everything has made to me even in such a short amount of time... To study yesterday with no back pain and without my legs being numb was amazing!