Monitor Arms
ViewMaster M6 Monitor Arm 122
Code: AZMA-57122
The ViewMaster M6 Monitor Arm 122 offers a very effective compact solution allowing users to adjust their screen height with the greatest ease. It takes up very little space, which makes it ideal for workstations.

The monitor can tilt, swivel and rotate in any desired position

Built-in SUSPAŽ gas-springParallel mechanism

Step less height adjustability: 305mm

Integrated/concealed cable management

Die-cast aluminium

VESA: MIS-D 75 x 75/100 x 100mm compatible

Rotate 180°, tilt 180°, lateral 180°

Weight capacity: 4,5kg-10kg (up to 24"/24"W)

Desk clamp capacity 55mm

Bolt through desk min./max. Ř 10-70mm

Maximum reach: 380mm

Three-dimensional movement

Touch screen stable

Comes with both bolt through desk and desk clamp
You may also be interested in
Back to Top
Recently viewed items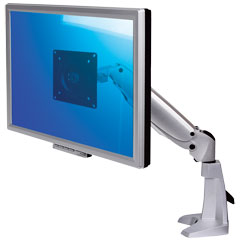 ViewMaster M6 Monitor Arm 122
DSE Needs Assessor
Thank you very much for providing the student with such a beneficial assessment and for sending over the report and quotations. Our client has also provided me with further feedback to say the assessment was a very positive experience for her which is lovely to hear. It is also clear that you have provided the most suitable equipment for her which is excellent as during my assessment she was unsure she would ever find a chair comfortable enough to sit in for any length of time. Thanks again and I look forward to working with you and Healthy Workstations in the future!