RollerMouse Red
Contour Rollermouse RED
Code: AZM22-RED
The latest innovation by Contour Design: the RollerMouse Red offers a solid, sleek and durable aluminum frame that houses a new advanced rollerbar and eight centralized button functions.
Experience real cofort, control, and pinpoint accuracy from RollerMouse Red. Work never felt so good!
Seven sensors inside the rollerbar automatically track cursor position, constantly adjusting speed and acceleration to ensure the rollerbar is as central as possible, and adapting to your pace of work to decrease micromovements and increase efficiency.
The new textured and thicker rollerbar offers better feel for increased control and strain.
The larger surface of the rollerbar gives you more control when pointing, rolling or clicking.
RollerMouse Red was designed to adapt to the diverse needs of today's computer users, working with programs ranging from CAD to general Office applications.
The mechanical mouse click has been replaced with an electronic click to eliminate click trauma and reduce the risk of unnecessary strain.
Controlled by a fully open rollerbar, which encourages the use of both hands
Unparalleled precision with tracking technology inside the rollerbar – up to 2400 dpi
Quick and easy cursor speed change between five cursor speeds (800/1000/1200/1600/2400 dpi)
Eight key functions made for productivity and ergonomics, including the "one touch" double click, copy and paste
Adjustable click force and click volume?
Keyboard risers making it possible to adjust keyboard height and angle to ensure optimal comfort and working position
Plug and play USB installation – no driver required
Aluminum body with detachable leatherette wrist rest
2-year warranty
View the brochure on our resources page or watch the video on our channel
You may also be interested in
Back to Top
Recently viewed items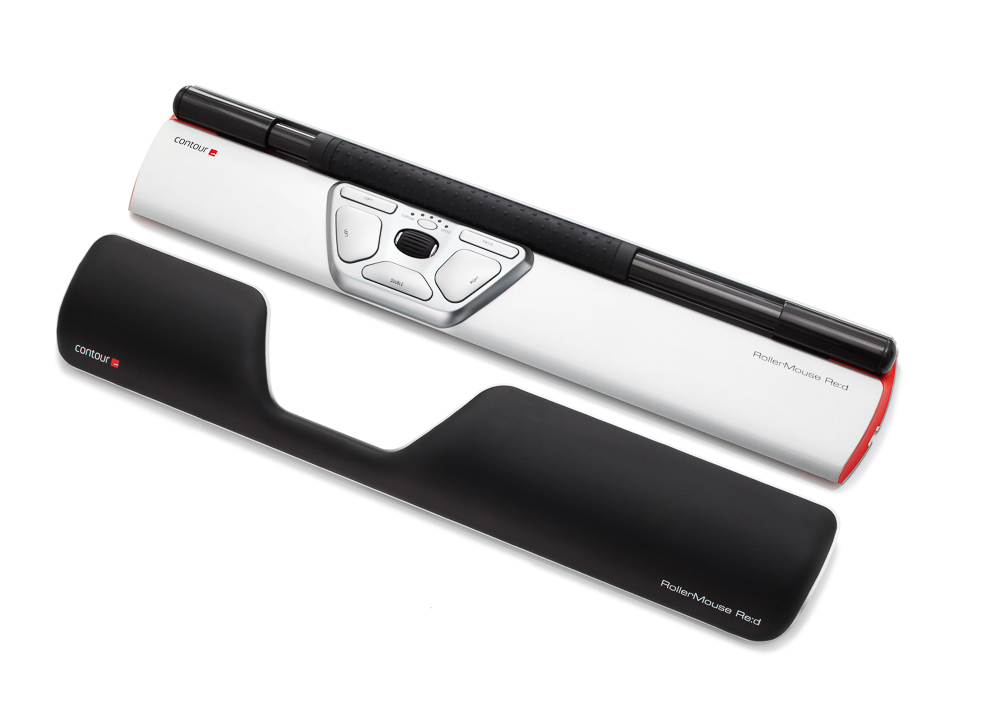 Contour Rollermouse RED
Leah, Health and Safety Assistant
Thank you for all your help this year, yourself and your team have been invaluable in office moves, assessments, training and giving us advice at the drop of a hat!