Ergonomics vs. Generation Z
Many organisations are moving away from more-traditional 'individual' workstations and shifting towards collaborative workspaces. Technological advancements have also enabled remote and home working, which is now commonplace.
While millennials (generation Y) have been busy adapting to this ever-evolving landscape, today's generation Z are already completely familiar with mobile technologies, having known nothing else - but are their attitudes and behaviour around these devices seriously considered and are the risks with long-term use - both in, and out of the workplace, properly evaluated?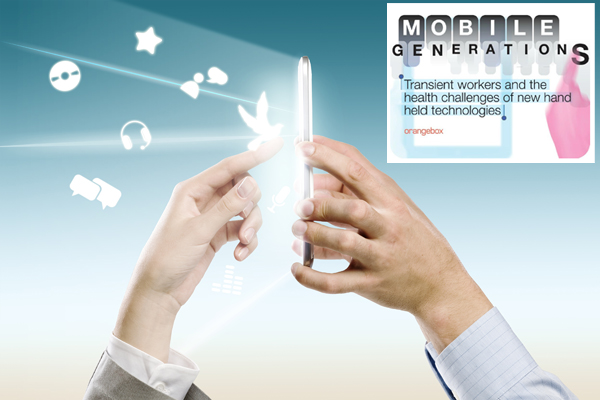 There are several implications with today's increasing reliance on hand-held technology and the ability to work anywhere, at any time. But this freedom from being 'chained' to a fixed desk can also bring opportunities. If you are a regular reader of our blog, then you'll know all about our recent visit to the new Orangebox HQ in Parc Nantgarw, Cardiff, where we experienced first-hand the possibilities of diverse working spaces including creative breakout areas and collaborative work booths which are employed in their impressive working showroom.
Invitation: #OfficeWars2015
Is your organisation looking to recreate, redefine or adopt more flexible set-ups?
There is so much to consider, so where do you begin? Come and explore original possibilities with us; bringing ideas to life through demonstrations, factory or showroom visits from our extensive portfolio of pioneering and UK manufacturing!
Furthermore, as partners of Active Ergonomics, we would like to introduce you and your team to a recent report by their chief ergonomist, Jim Taylour (see: mobile generations), which brings into focus the challenges, as well as the opportunities, in establishing an ergonomic, design led work space. There is also the opportunity to hear Jim present a perceptive presentation with research-led insights into the challenges we face and debate ideas for achieving better working practices.
---
Posture Awareness
In our April newsletter, we were talking about the new and award-winning BMA Axia 2.0 range and how these advanced designs can help improve seated posture throughout a department.
This interactive presentation reveals all: A Healthier Way of Working
If you've yet to discover Smart Technology 'in the flesh', then get in touch to take advantage of your own personal demonstration or two week trial.

We recommend that Occupational Health, Health and Safety, Managers or those actively involved in recommending DSE equipment, attend one of our in-house product workshops annually, to keep up-to-date with advancing technologies, innovative ergonomic designs and to ensure suitable products are put forward to prevent RSI and offer solutions to existing health conditions.
Contact us to arrange a team training session for your organisation:
---
Nearly New & available for immediate delivery!
We can't possibly display our entire collection in our showroom as we have such a large catalogue of office seating, from your everyday posture chairs to mesh back, heavy duty and advanced ergonomically-designed. This is why we cherry-pick what's new when conducting our in-house training events and what's most relevant to our delegates.
As a result of recent progress to refurbish our logistics unit and in-house showroom, we have a number of office chairs in stock, which we are offering you at a significant discount!

Take a look at all our Clearance Lines >>
---
Reminder: OHC15
If you've not yet registered for the Occupational Health Conference taking place on Thursday, June 25th at the Wales Millenium Centre, Cardiff, please follow this link: http://www.occupationalhealthwales.org/conference/

This annual event promises a jam-packed programme that's not to be missed!